Connecting Meaning to Movement with DV8 (Members)
Hannes Langolf and Ira Mandela Siobhan will conduct a workshop with participants on scenes from To Be Straight With You. Recorded interviews, which formed the basis of the piece, will be used in the creative sessions and participants will develop ways of interweaving this text with movement.
Please be aware that this workshop is not for the faint hearted! The session will deal with wide social themes concerning cultural, racial and religious in/tolerance within our society.
DV8 Physical Theatre
Lloyd Newson's DV8 Physical Theatre has won fifteen awards over the last five years for its stage and film works, including a Prix Italia and the Rose D'Or. The company was formed in 1986 and has produced sixteen highly acclaimed dance pieces, which have toured internationally, and four award-winning films for television.
To Be Straight With You
Conceived and Directed by Lloyd Newson To Be Straight With You is a poetic but unflinching exploration of tolerance, intolerance, religion and sexuality. Based on hundreds of hours of audio interviews collected throughout the UK with people directly affected by these issues the piece incorporates dance, text, documentary, animation and film. Nominated for a Lawrence Olivier Award (Best New Dance) and winner of the 2009 French Critics Award; Grand Prix for Dance, To Be Straight With You completed an international tour (which included a sell-out three week run at the National) in December 2009.
"DV8 and Lloyd Newson have always been well ahead of the game. Now, just at a point when others are catching up, Newson reinvents the rules...Hard-hitting and passionate... you will not be able to resist this brave, life-affirming show'.
The Guardian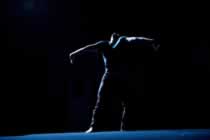 Ira Mandela Siobahn Hannes Langolf
Photos: Matt Nettheim
Recommended products
Performance Analysis- An Introductory Coursebook (Members)
(

£21.99

£20.89)
by Colin Counsell and Laurie Wolf (Editors)
Taylor & Francis
ISBN: 9780415224079

more info
The Politics of Performance (Members)
(

£20.99

£19.94)
by Baz Kershaw
Taylor & Francis
ISBN: 9780415057639

more info
Performance - A Critical Introduction (Members)
(

£21.99

£20.89)
by Marvin Carlson
Taylor & Francis
ISBN: 9780415299275

more info