Creative Storytelling by Animating Objects (Member Students) £85.00 £35.00
This workshop, led by Tim Webb, the artistic director of Oily Cart Theatre Company, will explore the company's use of all the senses, not just the senses of seeing and hearing which are the staples of theatre, and of animating objects to lend new dimensions to your storytelling skills. By working at a very simple level the course will refresh areas of your creativity that are rarely reached and utilised - but are a lot of fun. He will also pay attention to techniques for working with young people on the autism spectrum or those with profound and multiple learning disabilities.
Since 1981 Oily Cart has been taking its unique blend of theatre to children and young people in schools and venues across the UK and North America, challenging accepted definitions of theatre and audience, they create innovative, multi-sensory and highly interactive productions.
Venue: Unicorn Theatre.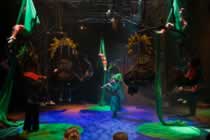 Recommended products
Drama & Traditional Story for the Early Years (Members)
(

£26.99

£25.64)
by Nigel Toye and Francis Prendeville
Taylor & Francis
ISBN: 9780415195362

more info
Drama 7-11 - Developing Primary Teaching Skills (Members)
(

£26.99

£25.64)
by Neil Kitson and Ian Spiby
Taylor & Francis
ISBN: 9780415141840

more info
School Improvement Through Drama (Members)
(

£34.99

£33.24)
by Patrice Baldwin
Network Continuum Education
ISBN: 978-1855394568

more info