London Drama News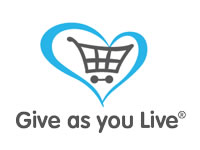 Help London Drama by shopping online!
As a charity London Drama has recently joined Give As You Live, a campaign to benefit charities by encouraging people to shop online.
Shop with your favourite stores and they'll donate to London Drama - all without charging you a penny more. From John Lewis to Expedia, you can compare thousands of products and brands that will all raise money for any UK cause and get the best deal online. Get started raising money for London Drama today. Find out more on the video below - select Full Screen icon to view properly.

Please sign up for London Drama's Give as you Live campaign at Give As You LIve. Many thanks!
---
Drama Support
Drama Job Vacancies
Current Drama jobs here.
To advertise your Drama job please contact
londondrama1@gmail.com
---
Borough Drama
Is your borough organised for Drama? Does it provide INSET or CPD courses? London Drama can support the development of initiatives and programmes for drama in boroughs. Please contact us if you would like more information.
Find out more
---
School Support
If your school would like to develop drama training please contact us. We will advise on or provide active resourcing.
---
Youth Theatres
Get Into Theatre helps you find out about career opportunities, work experience, training and much more.
---
Publications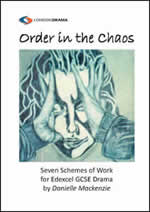 Order in the Chaos
by Danielle Mackenzie
This new practical resource book by Danielle Mackenzie published by London Drama provides teachers with seven exciting units of work and materials designed for the GCSE Edexcel Drama Examintion, New Specification, helping to organise "Order" in all that potential "Chaos".
Published as a downloadable E-Book.
More info and download here
---
London Drama Members!
Get 5% discount on all London Drama books at LD Books. (Log in required.) Applies also to members of National Drama and English Speaking Board. Find out more
---
Visit us on Facebook and Twitter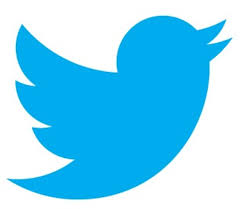 ---
Under Their Influence (Members)
£6.99
£6.64
Under Their Influence (Members) £6.99 £6.64
In Wayne Buchanan's play Randoulph is in hospital, a convicted murderer. His doctor unravels the incidents leading to the murder and his mental collapse. The play raises questions about the way black people are perceived and treated in the mental health system.
'The alter egos threaten to take over the asylum in an excellent new play.'
Time Out
'…the best play so far to constructively deal with a serious issue in the black community. Wayne Buchanan deserves a Grammy for this one…'
The Gleaner
Under Their Influence was Time Out Critics' Choice and was featured on BBC TV, Choice FM and local radio.
Recommended products
We Didn't Mean to Go to Sea (Members)
(

£9.99

£9.49)
by Arthur Ransome
Aurora Metro
ISBN 9781906582050

more info
The Arab Israeli Cookbook (Members)
(

£7.99

£7.59)
by Robin Soans
Aurora Metro
ISBN: 0-9542330-9-3

more info
Coming up
Masks and Half Masks with Trestle
Saturday 30th June 2018: 10-5pm
Venue: TBC
This fun, accessible workshop from Trestle Theatre Company will help strengthen your practice of using Trestle full masks and half masks as a tool for both theatre and social development. The work consists of experiencing exercises and learning teaching techniques to develop physical awareness, mask performance and creative devising.
More information and book at Trestle
Member booking at Member Trestle.
---
Drama Now! Conference 2018: Drama and the Crunch
Thursday 5th & Friday 6th April 2018
Venue: Goldsmiths, University of London
Unfortunately we have had to cancel this Conference because not enough people booked it. However, we recommend atttending National Drama's Drama Spa Conference on Friday 13th and Saturday 14th April 2018 at Homerton College, Cambridge. More info here.
National Drama has arranged a special rate of £200 for London Drama Members to attend.
If you would like to book this Conference instead please contact us at londondrama1@gmail.com and we will book you in.
---
Surveys
Drama Networks Survey
Are you in an active local network for drama teachers? Would you like to be? Take the LD Drama Network Survey here
---
GCSE Drama Take Up Survey
Has EBacc undermined GCSE Drama take up? Take the survey here.
---
Courses Survey
We are always keen to hear what courses we can run for you. Please take our Courses survey here.
---
Mapping Drama Practice
Take the Survey of Drama Practice: it will only take a minute
---
Organisations
STEP is a borough-wide partnership linking the theatre community and education and youth sector in the London Borough of Southwark. STEP aims to equalise, extend and deepen the theatre and drama experience of all young people living in Southwark through the development of strategic partnerships between schools, youth and community groups and theatres and performing arts organisations. STEP's objective is to work closely with Southwark schools, youth and community groups and theatres and performing arts organisations to develop creative approaches to learning and provide innovative projects which stimulate children and young people's personal development and contribute to their educational attainment.
Find out more here.